The 35-year-old businessman came from nowhere to win the most votes in the first round of Syriza's leadership election
He is rich, handsome, openly gay, a former Goldman Sachs trader and shipowner to boot.
Four weeks ago few in Athens had heard of Stefanos Kasselakis. But as the Greek American entrepreneur has shown, a month is a long time in politics.
Since unexpectedly announcing his candidacy in the race to lead the leftwing Syriza party, Greece's main opposition, the 35-year-old outsider has lit up country's staid political scene in ways few could have imagined. What might once have seemed outlandish – a US businessman vying for the leadership of the radical force – suddenly seems very real.
Before polls open for the runoff vote on Sunday, many are asking whether Kasselakis, who won more votes than any of his fellow candidates in a first round last week, can now pull off the unthinkable and beat Efi Achtsioglou, a successful former labour minister, the first woman to compete for the post and, until recently, the favourite. If he does, it will, Kasselakis says, be a first step towards defeating the prime minister, Kyriakos Mitsotakis, with his self-described "better English and finance and business" knowledge, creating a US-style "big tent" party.
In the first round, the entrepreneur who has ditched tailor-made suits and ties for jeans and T-shirts, gained 45% against Achtsioglou's 36% – a difference of 12,864 votes.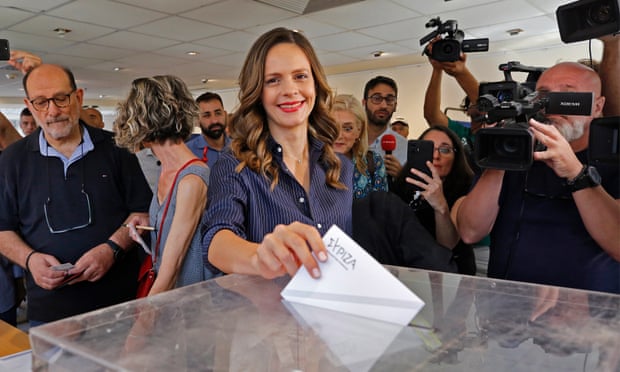 "We're all on the edge of our seats," said one Syriza party official on Friday. "And that's because in many ways his victory looks so darn inevitable."
The leftwing writer Dimitris Psarras said many members of what was once an alliance of Marxist-Leninists, ex-communists, ecologists and social democrats were dreading the outcome.
"It's as if Netflix has come in, taken over the party and is now turning it into a serial," Psarras told the Guardian. "People have no idea what his politics are about or whether he has a programme at all. Of course, they're in shock."
Not since the emergence of the leftwing student activist-turned-politician, Alexis Tsipras, who took Europe by storm with Syriza's ascent to power at the height of Greece's debt crisis, has an electoral candidate so realigned the constellation of Greek political stars.
But Tsipras, who stepped down to allow a new leader to oversee the party's "profound renewal" after its routing in double general elections in May and June, had made his way up through the ranks.
In him, leftwingers who had lived through the "stony years" of military dictatorship between 1967 and 1974 – often enduring exile and torture on remote Aegean islands – could identify with a politician whose ideology was seen as progressive and nonconformist.
For those who had witnessed civil war in the aftermath of Nazi occupation, and decades of rightwing authoritarianism, the young leader symbolised the Greek left's hard-won struggle for acknowledgment in a nation from which, politically, it had been bludgeoned and banned.
Kasselakis, by contrast, is not even an MP.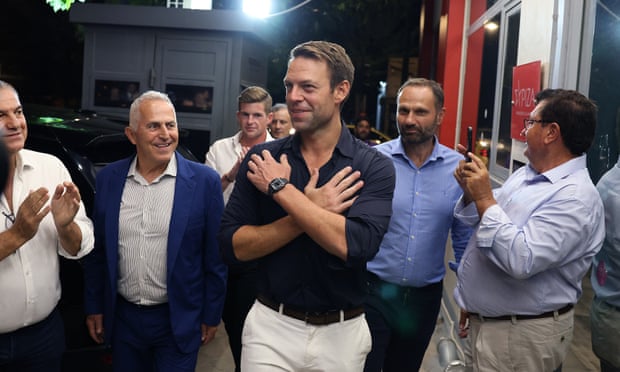 In an opinion piece published in July the entrepreneur, who moved to Massachusetts as a teenager, called his decision to engage in Greek politics "a brief interlude between two chapters in my business career". His break came when Tsipras gave him the honorary position of being an expatriate candidate on Syriza's state ballot in April.
"Thankfully, given the nature of my business in shipping over the past six years, I have been able to reconnect with Greece … and have been able to shape my own views on the changes the country needs," he wrote. "If the intention is to govern again, Syriza should just copy the US formula as soon as possible [and] unequivocally embrace the political centre as well."
Among the array of policy priorities proposed by the businessman were "drastic" tax relief for private and public sector employees, the separation of church and state, judicial reforms, citizenship for migrant children born and brought up in Greece and legalising same-sex marriage. But his failure to produce a detailed programme has been criticised as indicative of an approach both opaque and overarching.
"If he wins it will be a choice that will make the goal of kicking out the right more difficult and will distance Syriza from the left," said Nikos Filis, a former education minister during the leftists' 2015-19 term in office.
But Kasselakis, a vocal gay rights proponent who has appeared on local TV with his American partner Tyler McBeth, has been applauded for his winning personality and is seen by some as the disruptor needed to put the party on a new path.
Of the nearly 149,000 who cast their ballots last Sunday, almost 40,000 were newly signed-up members, with the vast majority believed to have backed Kasselakis. This week Syriza MPs, including Nikos Pappas, a fellow candidate who picked up 8.9%, said they would support Kasselakis, whose versatility with social media and air of glamour has resonated with younger voters.
"People wanted to send a message [in the first round]," said Giorgos Tsipras, a top Syriza cadre and cousin of the former leader, referring to Kasselakis' decisive first round victory.
"We can't act as if nothing is happening. People want another party, other faces … the party can become a more aggressive opposition and embrace more people [by moving] towards the centre."
Twenty-five days have elapsed since the political neophyte entered the race, declaring: "The time has come to build the Greek dream that we so desperately need."
Until Thursday – when he faltered, referring to Turkish-occupied northern Cyprus as "the northern part" of the island – his campaign had been faultless. The slip immediately drew charges of political naivety. At 4.19am on Friday Kasselakis shot back, blaming fatigue, saying: "At times I have to look for the right word in Greek."
In a climate of open warfare in Syriza – and talk of the party's dissolution – it remains to be seen whether Sunday's result will cast the newcomer as a shooting star or the embodiment of renewal on the left of Greece's political landscape.
Source: The Guardian