Russian fashion designer Valentin Yudashkin has died aged 59 after a long battle with cancer.
Yudashkin is famous for wowing Paris Fashion Week with his Faberge collection in 1991, and clothing former Soviet first lady Raisa Gorbachev.
But his Paris show was cancelled last year after he failed to condemn Russia's invasion of Ukraine.
His death comes two days after that of his teacher Slava Zaitsev, considered the USSR's and Russia's top couturier.
Yudashkin set up his own fashion house in the 1990s, and is also known for designing the Russian team gear for the 1994 and 1996 Olympics and the national football team's colours in 1999.
In 2008 he crafted uniforms for the Russian army.
He became the first Russian designer to join the French Federation of High Fashion, and appeared regularly at Paris shows over three decades.
On his 50th birthday in 2013, he was awarded the French Legion of Honour.
Yudashkin was diagnosed with kidney cancer in 2016.
But he appeared in public earlier this year, at Zaitsev's 85th birthday, describing his brief time as a student with the veteran designer as "informative, large-scale and beautiful".
He outlived his mentor by just two days.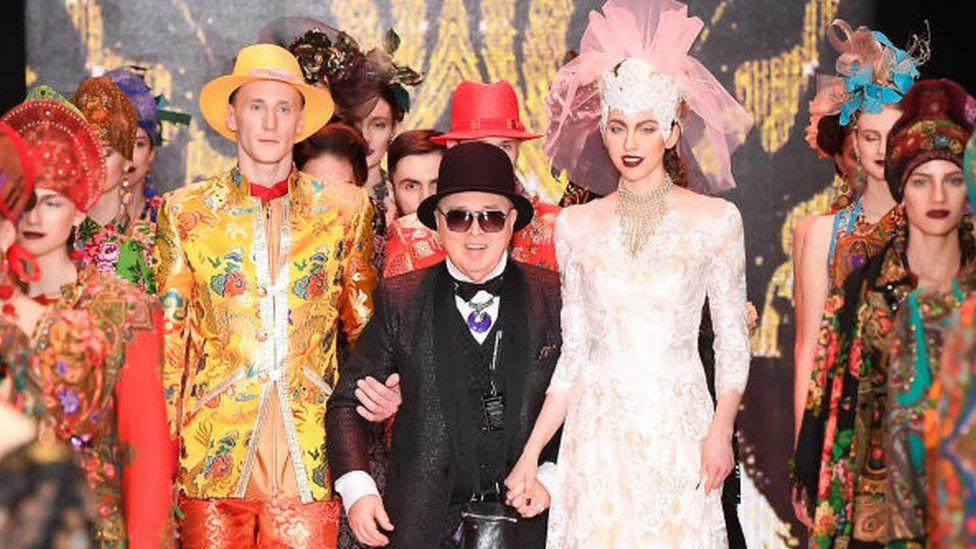 Zaitsev, 85, was dubbed the Red Dior by French media in the 1960s. His first international recognition came with a Paris Match article about his design for female workers' overalls.
He achieved global success with bright dresses adorned with the flower patterns found on traditional Russian shawls – vivid colours matching his flamboyant personality.
He reflected that the brightness contrasted with the greyness of Soviet everyday life, where an individual should not stand out. His collections went on to grace the international catwalks.
Zaitsev became the first Soviet designer to have his own label and exhibit high fashion collections.
He was also employed by the state, designing costumes for the opening ceremony of the 1980 Moscow Olympics and kitting out Russian police with uniforms in the 1990s.
Paying tribute to him, state television said he was an innovator who wasn't afraid of bold experiments, but he sometimes played down his flamboyance.
"Fashions come and go but style is for ever," he said in an interview for BBC Russian in 2009. "I can say that I'm a very stylish person, conservative in character."
Source : BBC